Cargo & Couriers to Remote Areas
Shipping to remote areas is complex than standard shipping to major cities. The delivery or the shipment to remote areas are more difficult and expensive, may ask for extra applicable charges. If you are staying in a remote area or you require to ship any items to a remote area, you need to know about a few important things below.
Remote areas are not close to any big city where courier companies of local depots are situated making it slightly out of reach. But we also understand that these locations are important and include suburbs, islands, ski resorts, and small towns. We have different depots in several specified locations and if the closest depot is to the delivery or pick-up address is not close then the address may fall under a remote area.
What is known as remote area delivery by couriers?

Shipping services for delivering to a remote area
Shipping parcels to and from an address in an isolated or remote location is easier than it might appear. Anytime Express offers different solutions to suit all kinds of shipping needs from and to a remote and isolated location.
Which address do I provide to successfully ship and receive parcels to a remote location?
The first cause of delayed or failed deliveries when shipping to remote or isolated locations is the wrong address or address formats. Always double-check all the data and follow the example below to know how to properly fill the address field when booking your courier service to a remote area.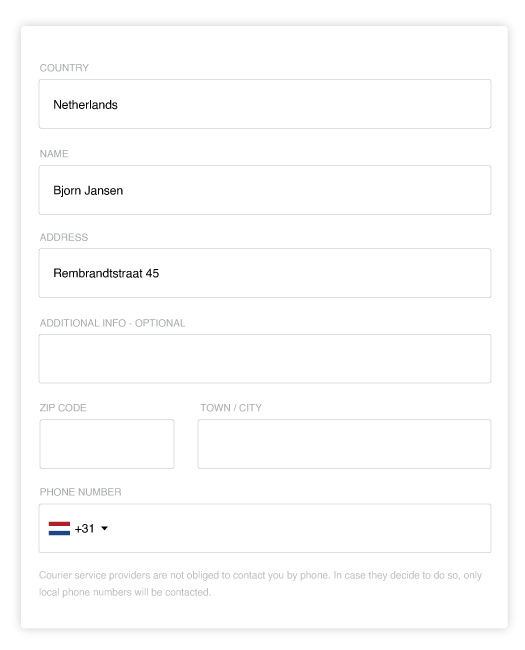 Country
Choose the country of pick-up/delivery.
Ex.: the Netherlands
Name & Surname
Add the full name of the consignee.
Ex.: Bjorn Jansen
Address
Fill out the street name in full and the number.
Ex.: Rembrandtstraat 45
Additional info – Optional
This area is not always taken into consideration by the courier, so avoid writing essential information here.
Zip code
Add the zip code, please double check if it's the right one.
Ex.: 1008 DG
Town/city
Add the full name of the town or city.
Ex.: Amsterdam
Phone number
Add the phone number, change the area code if needed.
Ex.: +31 20 1234 1234