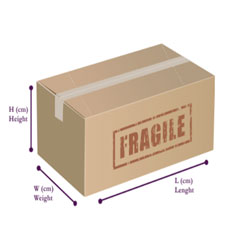 Volumetric Weight Calculator
Select Units
Cm/Kg
IB/IN (OR)
Mention Actual Weight
 100 kg
(Mandatory for comparison)
Enter Dimension
Length x width x Height
(Lengthiest dimension is the Length)
Length
Width
Height
100 in  100 in  100 in
Important Note: If Dimension weight is higher than the actual charge then this will be applicabl eon dimension.
How You Can Estimate Volumetric Weight?
If you want to estimate the volumetric weight for your shipment, you can go for the calculation, Length (cm)x Height(cm) x width(cm) and you can divide the result by 5000.
For example,
If you are sending any bundle that weighs equal to 8 kg, then the dimensions must be 40cmx30cm50cm,
40x30x50    =  12kg
5000
If you are sending many packages then make sure you calculate each weight individually and this mean "Total chargeable weight". The chargeable weight which is dead weight or Volumetric weight which is difficult.